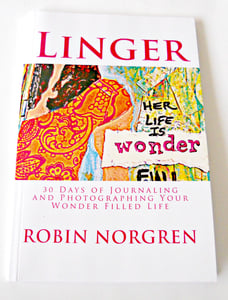 $

12.95
Take 30 days and nourish your soul with art and quotes and questions and self portraits captured in the midst of your journalling process to bring you in the grace and the wonder and the soulfullness of a satisfied life no matter what circumstance you find yourself.
Each day offers you a inspiring piece of mixed media art for your to linger over, a thought provoking quote, a question with space for you to answer right in the book. Plus there are several opportunities for you to pick up your camera and take a snapshot of yourself and write your thoughts about this life you are leading at this moment and make plans to create the life that you are longing for.
You CAN HAVE more meaning, more wonder, more magic infused into the essence of who you are. Prepare to fall in love with the person you are on a deeper level and to walk more deeply into the soul full life you are longing for.
Won't you take the time to Linger?
WHAT TO EXPECT:
each day is laid out with a question and journaling space and a piece of art to help inspire your writing. At the end of each day is a quote that ties into this soul provoking journey. PLUS randomly throughout the 30 days you will be encouraged to take a self portrait and/or to draw a piece of art to capture your feelings at that point in time.
Details:
6x9
Full color cover
Full color interior
80 pages
Ships via USPS in 7-10 business days