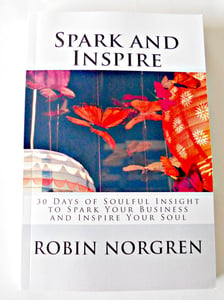 $

10.00
30 days worth of questions that you can take and use as a 30 day diagnostic for your idea, vision or business.
When you are smack dab in the middle of an idea or vision you want to bring to the forefront, you really want to hear from those who have felt the victories and the disappointments of taking such a brave leap. You want a community, inside advice with no expectations or strings attached because… well you need it.
Within these pages you will find the voices of over 40 creative entrepreneurs who run their businesses both online and in brick and mortar stores, who run workshops and sell in shows, who have a range of experiences and have been in business from 1 year to more than 25 years and who offer you no nonsense information on their processes and how they have been able to keep moving in tough economic times and how they have found a way to let good ideas go when the money was not in line with the dream. We are talking on a range of topics from collaborations to big leaps that did (and did not) come together as planned. We are talking about how to get at the soul of your business and how to stay excited about the work you offer the world.
You can peek at some of the questions over at http://www.sparkandinspire.com
The creative entrepreneurs inside this book:
Kelly Thiel
Stephanie Amos
Leanne Wargowsky
Alease McClenningham
Sonya McCllough
Jean Simrose
Jan Avellana
Nolwenn Petitbois
Kelly Warren
Laura Otero
Stephanie Guimond
Shari Sherman
Dani Keith
Paula Joerling
Valerie Weller
Phyllis Dobbs
Catherine Just
Katie Clemons
Kat Sloma
Laura Gaffke
Natasa May
Julene Ewert
Jodi Lebrun
Erin Fickert-Rowland
Louise Gale
Cindy Silverstein
Kim Gann
Juliette Crane
Jodene Shaw
Carrie Schmitt
Valerie Hart
Elizabeth Gonzalez
Lisa Wilson
e'Layne Koenigsberg
Mary Nasser
Amanda Fall
Beth Doan
Katherine Quinn
Liv Lane
Mandy Saile
Robin Norgren
41 artists
30 questions
Here is a sample of the questions:
-Collaborations: a good idea?
-Success in business is defined as….
-THE HARDEST PART ABOUT PURSUING A DREAM IS . . .
-The hardest part at year 2 of your business is….
-What color is your Business?
-In rapid fire fashion, write down 10 words that describe your business. Share your thoughts on these words.
-WHAT WOULD YOU CONSIDER THE 'FAVORITE' MISTAKE IN YOUR BUSINESS?
-The Balance question – WHAT DOES IT MEAN TO YOU AND HOW IS IT WORKING FOR YOU?
-What do you need to STOP DOING in your business?
-Who is your business muse?
-Is it necessary for your business to line up with your soul purpose? What value is there to having that aligned?
-Do you have a business mentor? What values does that offer to your experiences as a business owner?
-What animal would represent your first year of business?
-What business/businesses have you chosen to model your business after?
-At this moment, what one idea do you need to start executing for your business?
Testimonials:
It is a treasure to read and I find myself coming back to it over and over again. It is filled with artist interviews and words of inspiration to help the artist looking for answers. I have read other works by this author and she pulls me in every time with her words of creative encouragement. I also love that it is a Kindle edition, because I carry my Kindle everywhere I go!!
-Donna Wynn
Details:
6x9
Trade paperback
Full color cover
Black and White Interior on white paper
310 pages
Ships via USPS in 7-10 business days